IN THE MOMENT
"Skateboarding is intense in a way, but it's as intense as you want to make it.
You can take that intensity and flip it, turn it into some other emotion, and nobody's even really watching"
CONNER YOUNGBLOOD
If you've ever reminisced over a place you've never visited, or a face you've yet to meet, then Conner Youngblood's simple yet powerful songs will strike a chord with you.
Connor, a Dallas-bred, 28 year-old works as a musician full-time, which he admits, "Is a pretty crazy thing to think about. I'm also part-time skateboarder," then with a laugh he adds, "Part-time outdoorsman extraordinaire."Conner's entry into music began with the clarinet in his middle school band, but he didn't start writing his own songs until he was 18 years old. "I got a Christmas gift from my parents to go to a music studio and record," he explains. "I hadn't actually written any songs until that gift, but once I started, I was hooked."
Conner's love of sharing tunes, and the feel good vibes that accompany them, has been the thing that's kept him making music over the years. "I love seeing people, meeting people, playing for people, getting an actual reaction right then and there," he says. "Seeing how a song, not even made a difference, but if someone just enjoyed it for three or four minutes -- It's the little things." When it comes to the art of creating he says, "You'd be surprised how quickly the actual moment decides where you take the song." Connor let's his imagination influence the music he makes.
"A lot of songs I write before ever going to a place," Youngblood admits. "One of the best things about writing songs about the outdoors and nature is there are all these things that I've never really pictured or touched or seen. The outdoors, it's just a whole new world of ideas -- literally bird species, trees, scenery. Just something new."
CONNER WAS FIRST INTRODUCED TO SKATING BY TONY HAWK PRO-SKATER VIDEO GAMES.
"THAT VIDEO GAME, IT WAS THE START OF ME STOPPING PLAYING VIDEO GAMES AND STARTING TO SKATEBOARD."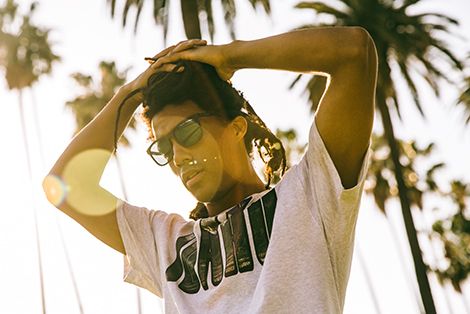 On the subject of skating he says, "It's the least competitive sport I've ever done. Skateboarding is intense in a way, but it's as intense as you want to make it. You can take that intensity and flip it, turn it into some other emotion, and nobody's even really watching." Just like the journey he allows in his songwriting process, Conner insists that when it comes to skating, "It's up to you to create what you want out of it."